Frutetto Kids (Tropical Medley)
Regular price

Rs. 499.00

Sale price

Rs. 349.00

Perfect For The Whole Family!
1 Pack with 4 Flavours:
Banana + Apricot, Peach + Pear, Orange + Lemon + Apple, Peach + Mango
In Frutteto snacks you will never find refined sugars or artificial substances. That's why our products are perfect for a healthy and wholesome lifestyle, ideal to be enjoyed by the whole family, any time of the day. Made with natural and carefully selected ingredients, our sugar-free popsicle is a promise of authenticity. A mere 50 Kcal intake without sacrificing flavour, offering you a delicious and healthy choice to satisfy your cravings without guilt. Our motto is "Healthy living but with flavour!"
Colour & Preservative Free

No added colour or preservatives, keeping it natural as intended by nature.
100% Vegan

All of our products are vegetarian-friendly.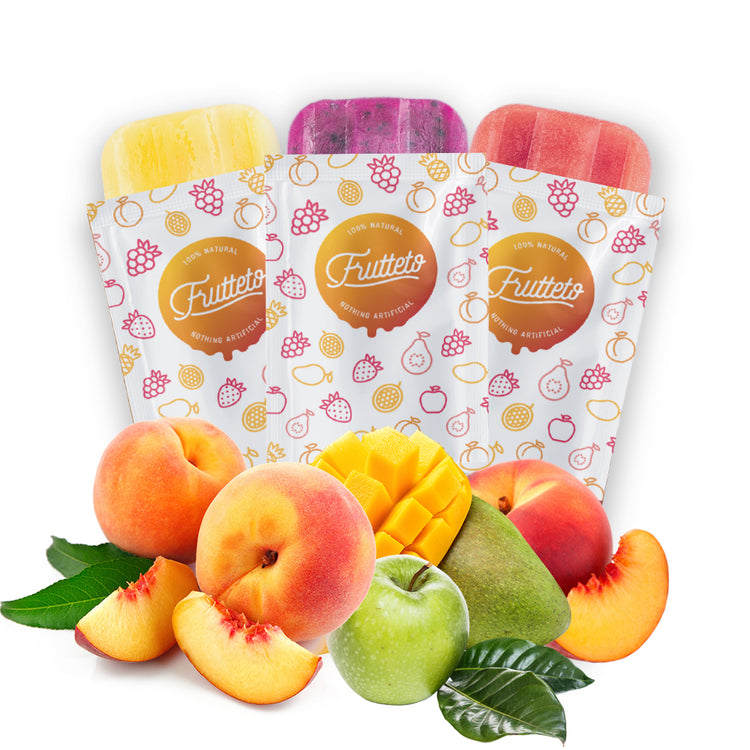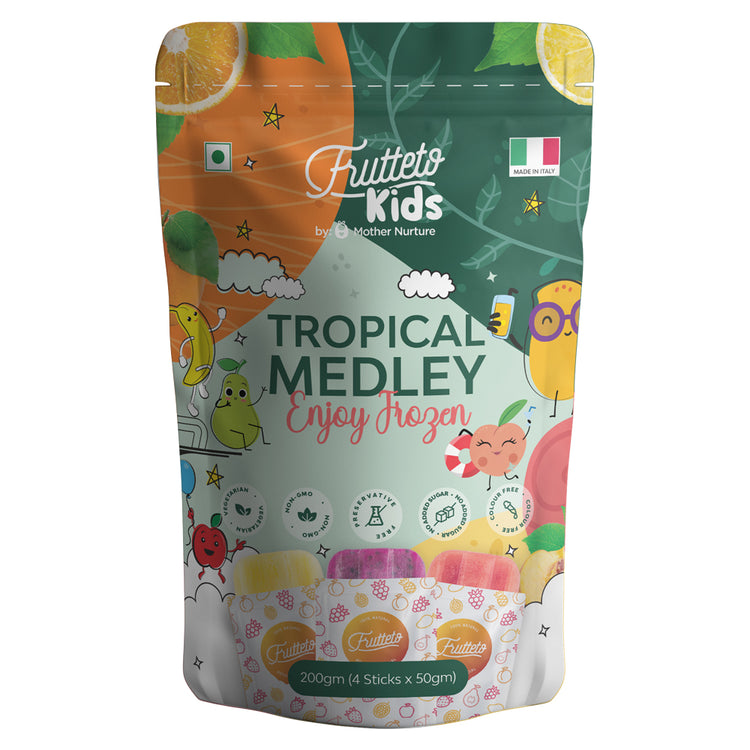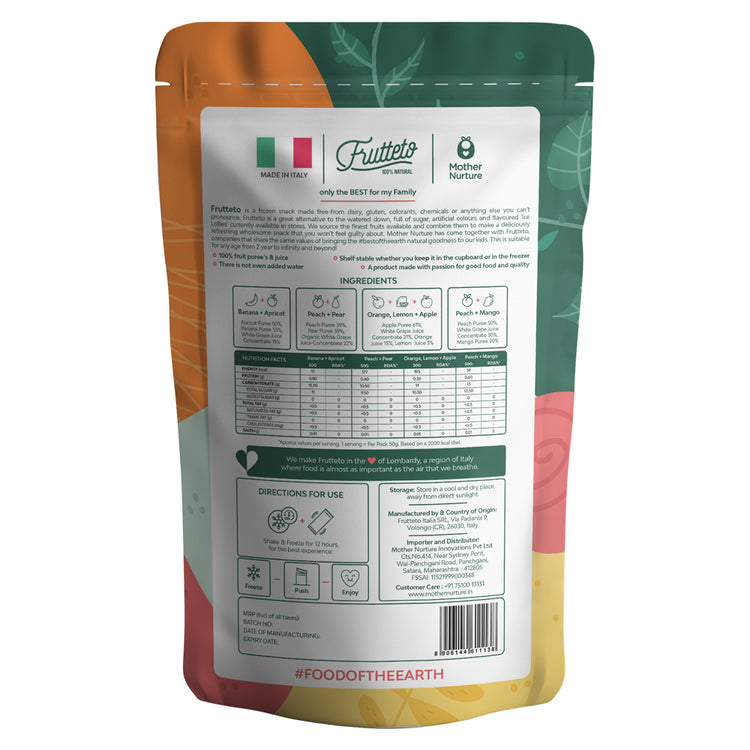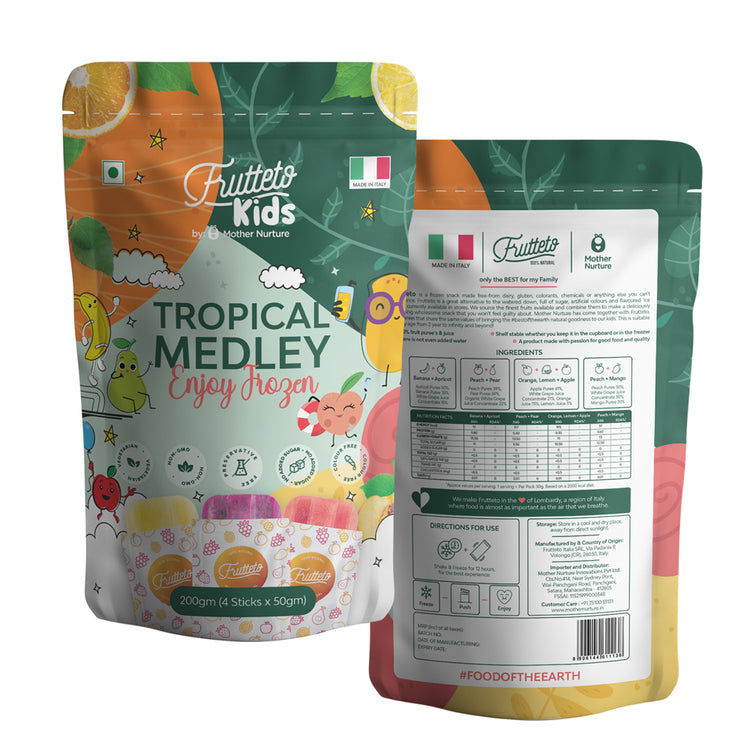 Frutteto Popsicle Flavours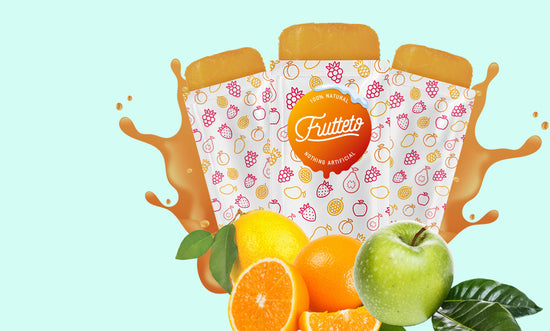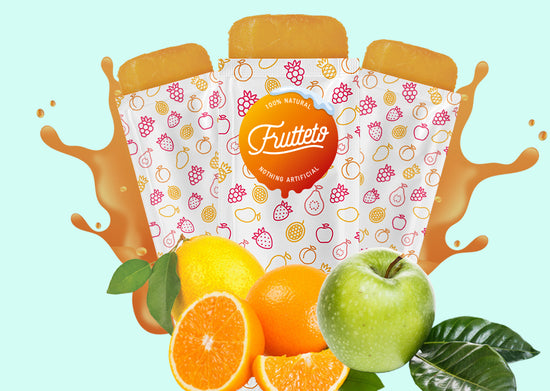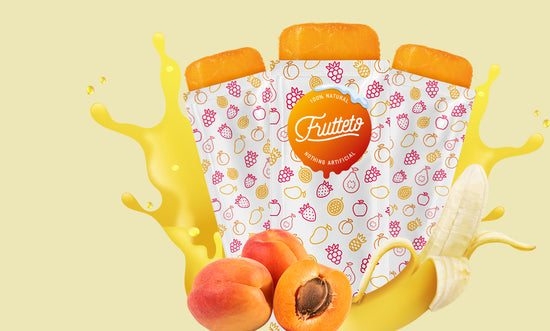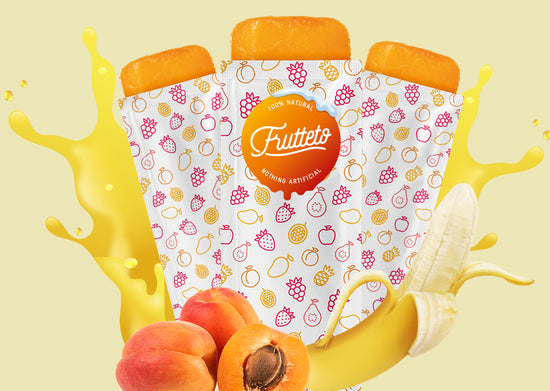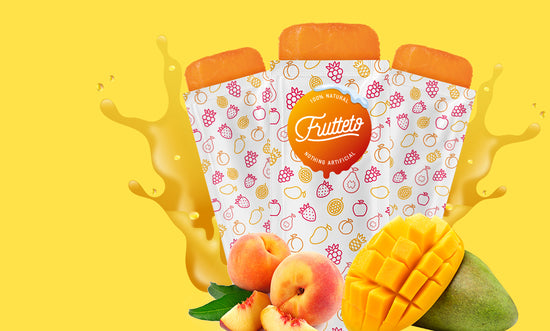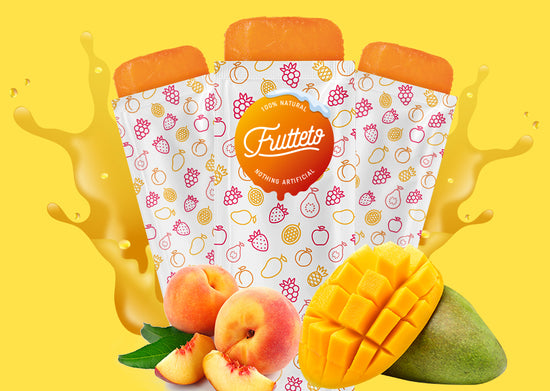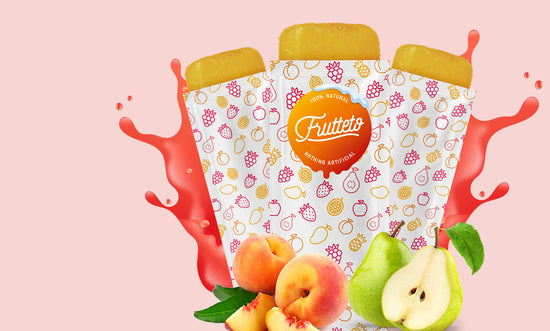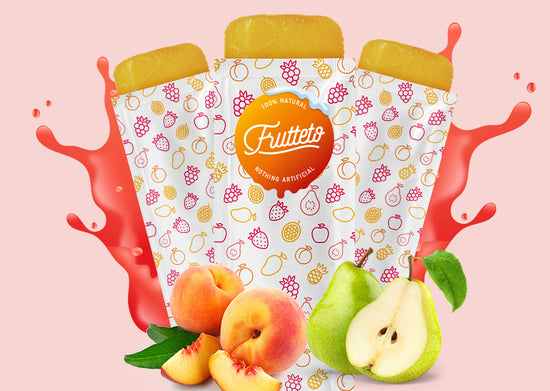 Banana + Apricot
Apricot Puree 50%, Banana Puree 35%, White Grape Juice Concentrate 15%.
Peach + Mango
Peach Puree 50%, White Grape Juice Concentrate 30%, Mango Puree 20%.
Peach + Pear
Peach Puree 39%, Pear Puree 39%, Organic White Grape Juice, Concentrate 22%
Orange + Lemon + Apple
Apple Puree 61%, White Grape Juice Concentrate 21%, Orange Juice 15%, Lemon Juice 3%.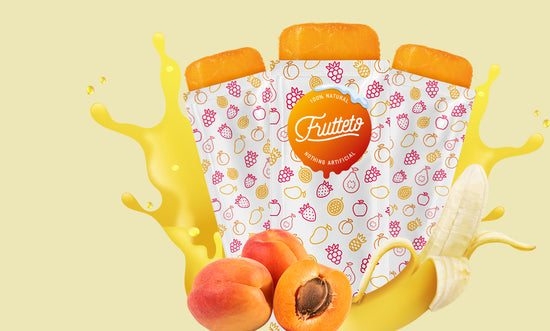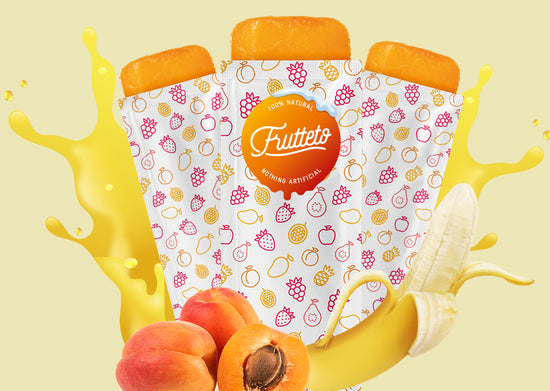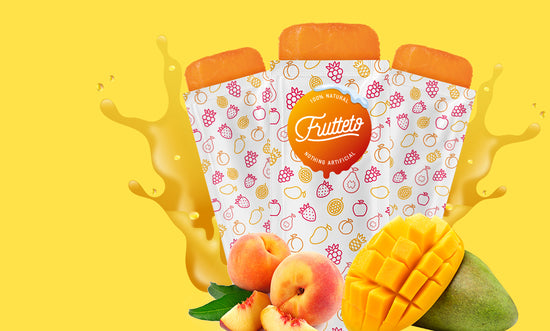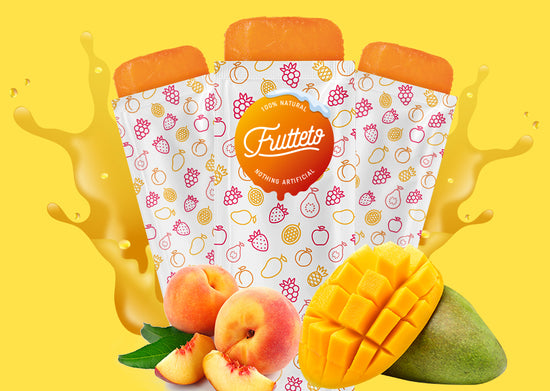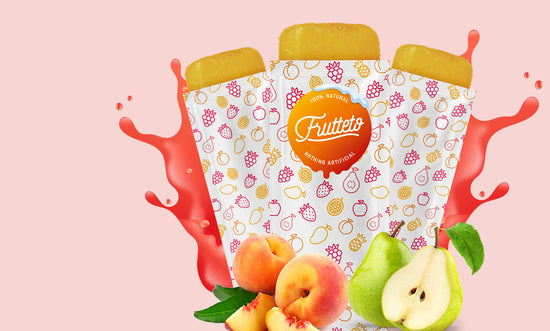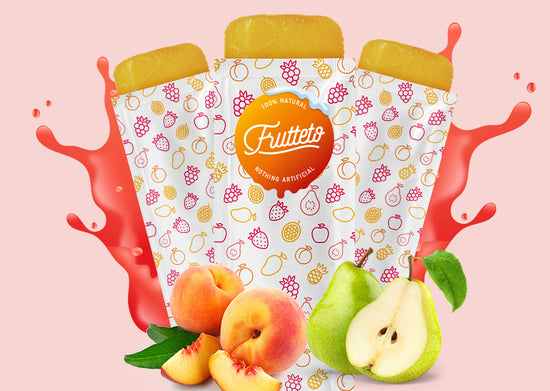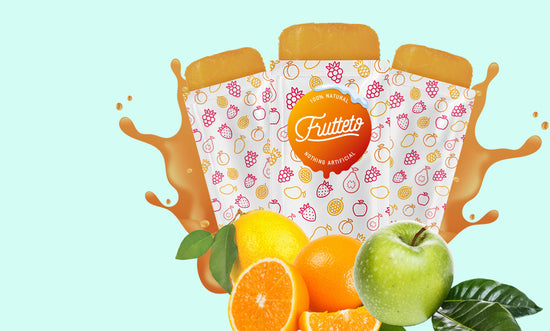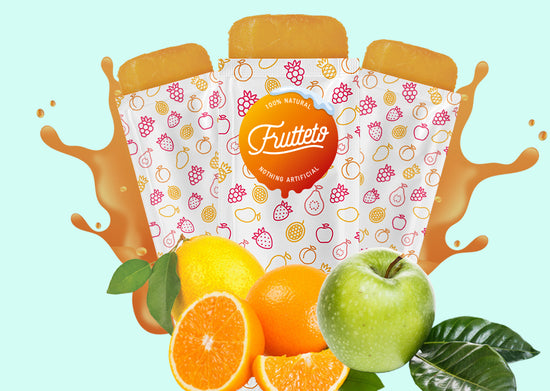 Guarantees
Gluten Free
No Added Flavours / Colours
Cash On Delivery
Available On All Products
30 Day Money Back Guarantee
100% Refund, No Questions Asked!
Freeze & Enjoy
1. Shake

2. Freeze

3. Cut Push

4. Enjoy
Shake & Freeze for 12 hours,
for the best experience
To savor this natural delight, chill it in the freezer for 12 hours.
Experience the delight of our Frutteto stick, a perfect combination of natural flavors. Open it up and enjoy the goodness within.
Indulge in the delightful flavors of Frutteto sticks while creating moments of togetherness with your friends and family.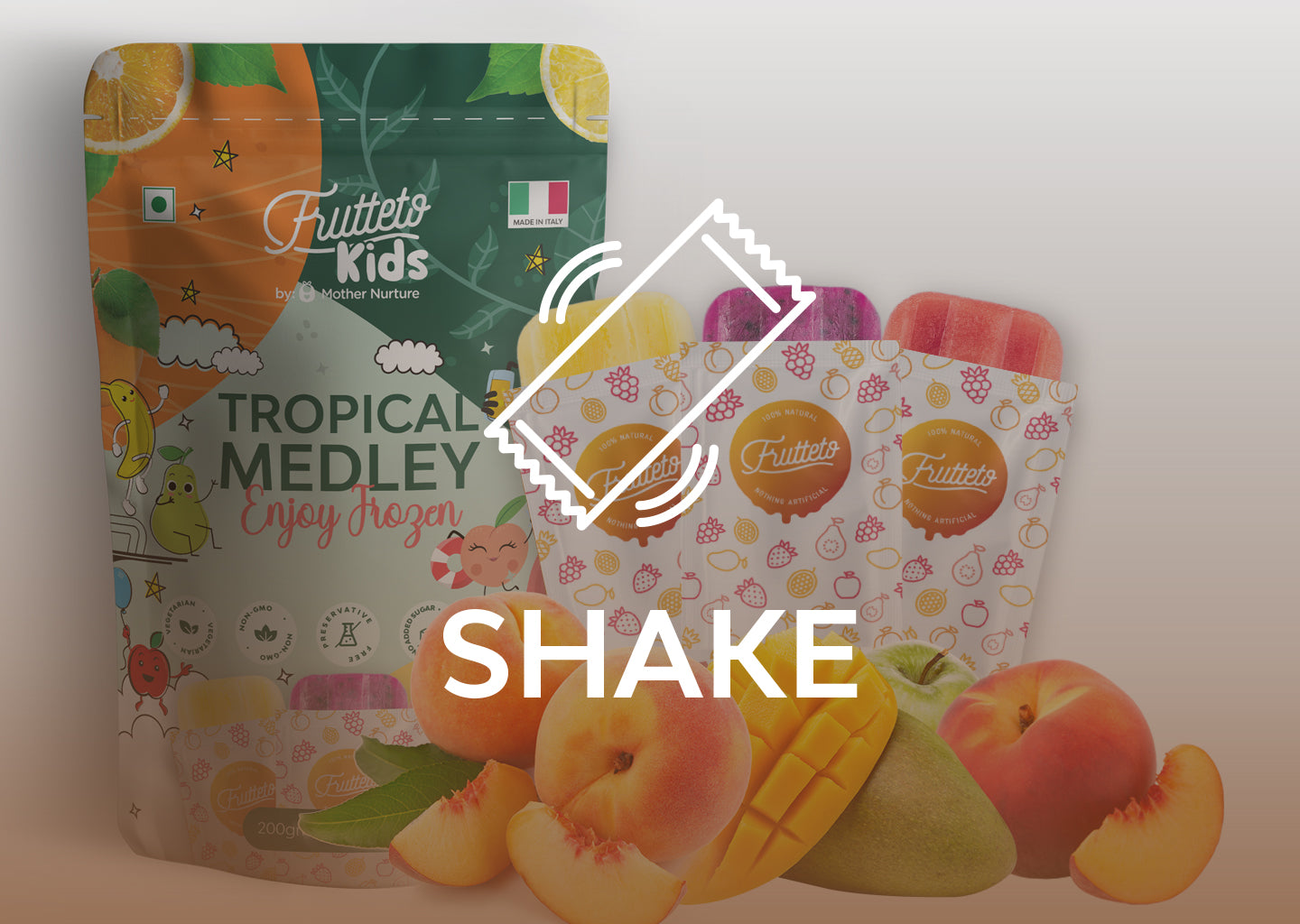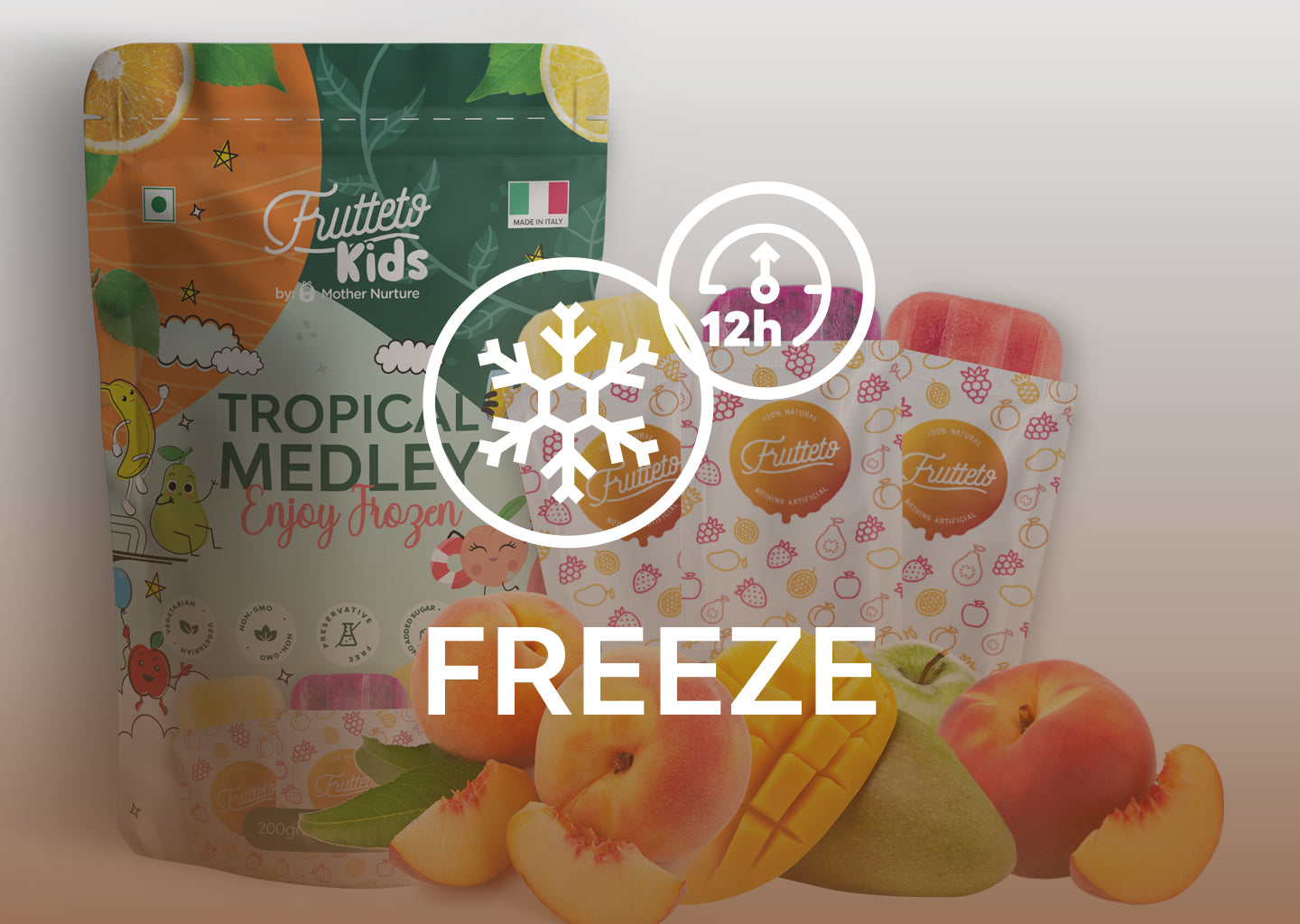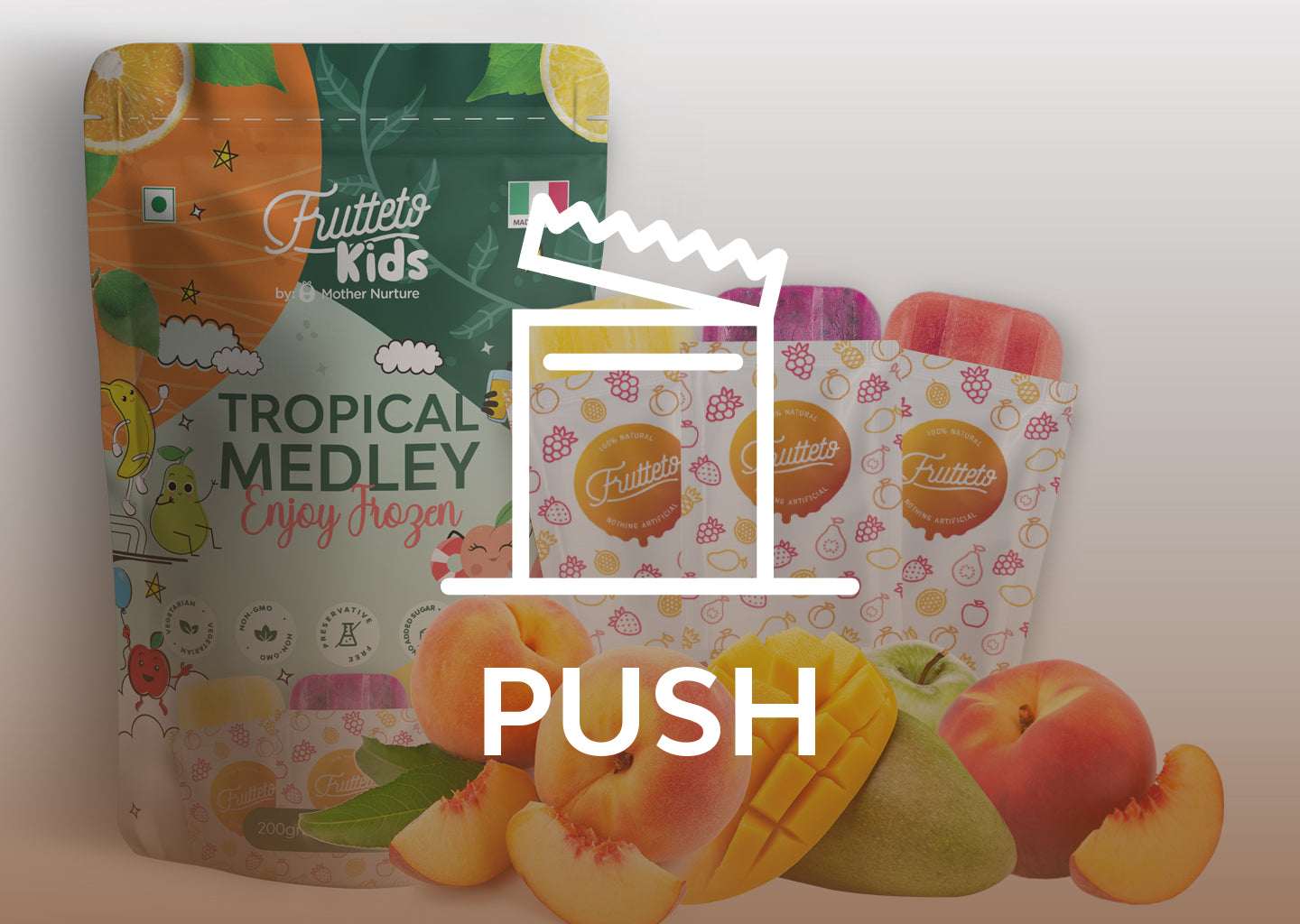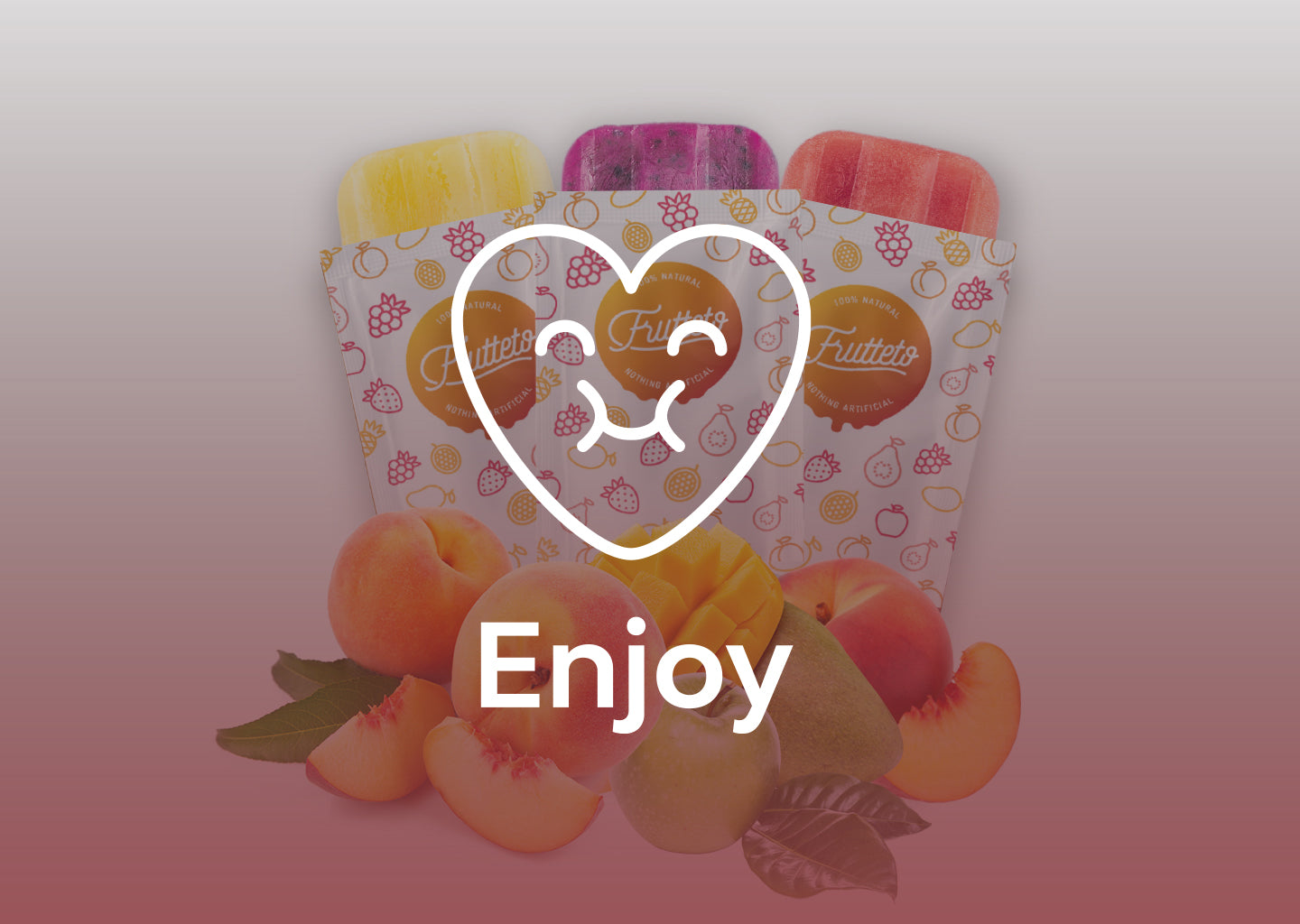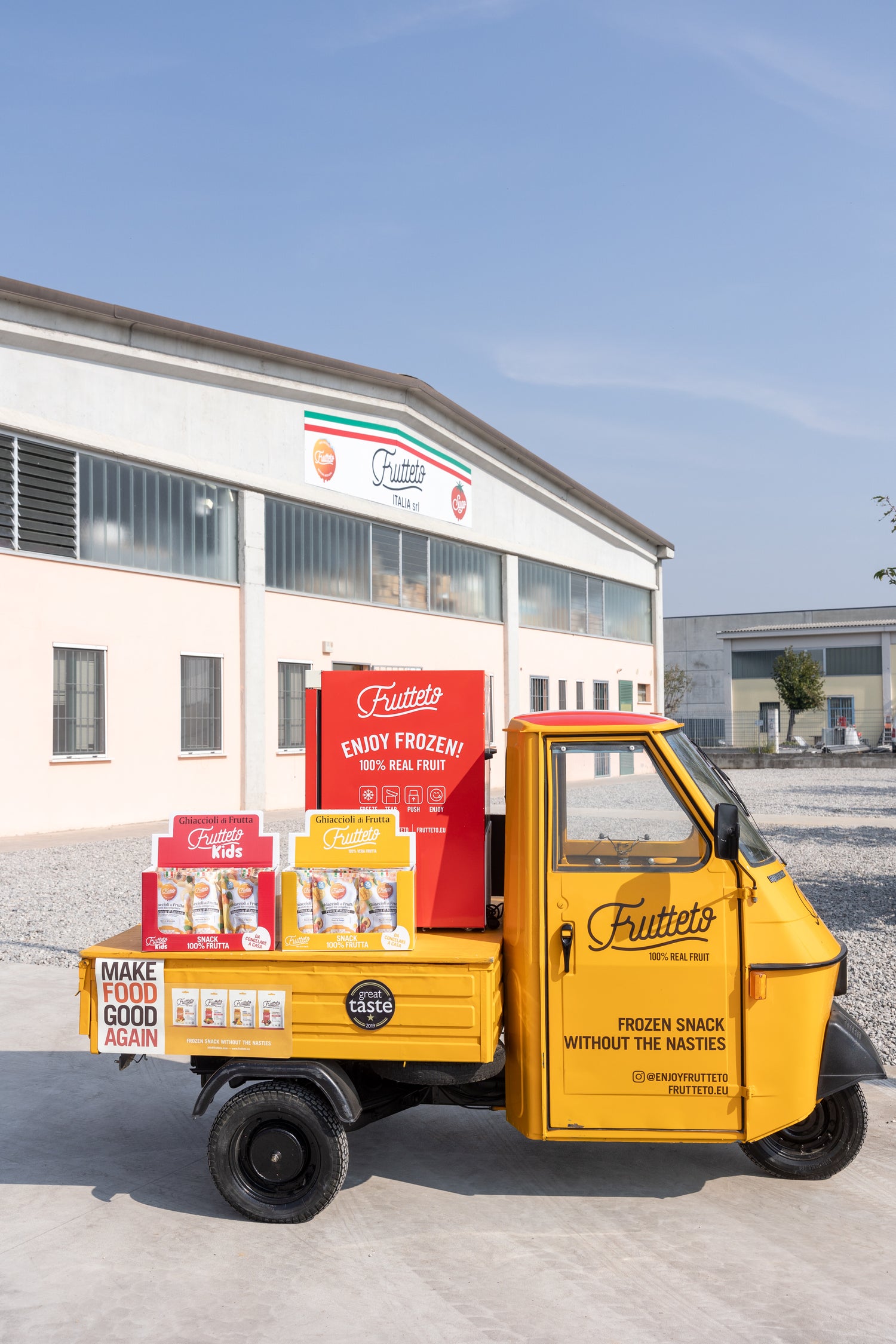 More than popsicles
Did you know that our Frutteto popsicles can also be consumed in numerous other ways? Thanks to the pasteurization technique we use to produce them they can be stored at room temperature, this also allows them to be enjoyed in ways other than popsicles, such as topping on Greek yogurt, topping on ice cream and main courses. Choose the flavour you prefer and discover the myriad uses of Frutteto! Stay tuned to the "Recipes and Ideas" section where you can always find new ideas. 
Fruits > Popsicles
Before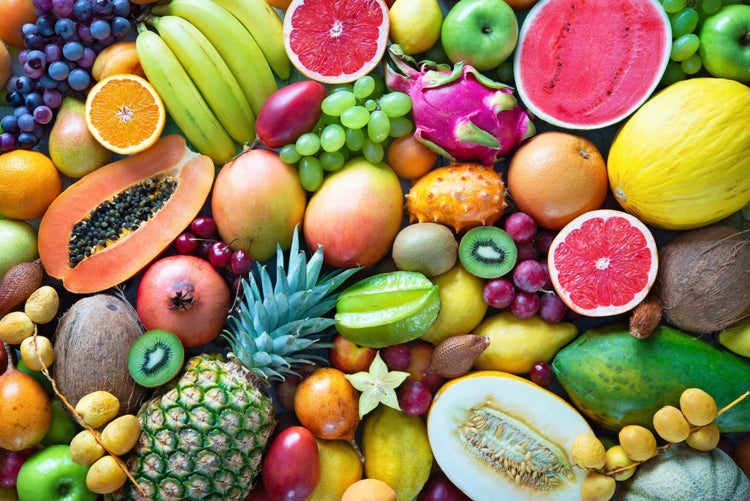 After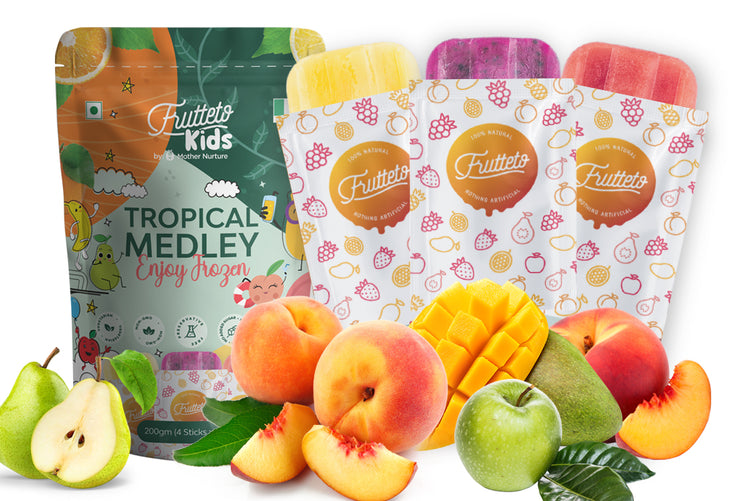 About this item
Building Healthy Habits

Offering choices and flavours of Mother Nurture products at mealtimes will give your child variety and they will become accustomed to accepting different foods. They will grow up to enjoy different flavours and textures -- essential for healthy growth.

Contains No Added Sugar, Preservatives & GMO Free

Elevate Your Snack Game with Frutteto's Naturally Sweetened and Wholesome Treats.
Parent tasted; baby approved! 

As Parents ourselves, we at Mother Nurture have tested and tasted every one of our products to make sure we offer only the best in taste, texture and quality. We know how your little one can be fussy and can reject new flavours and tastes. The food we give our baby has to be delicious in taste, along with being pure and nutritious. When something tastes so wonderful no baby will refuse it!!
Worth the Price!!

Mother Nurture may cost just that little bit more than some other brands -- but isn't it worth it when you are 100% assured of nutritious, delicious and completely natural food for your precious little one?


Pick up a pack of Mother Nurture TODAY and see for yourself!!
100% Money Back Guarantee

We are so confident that your precious darling will love these meals, that we have a "100% Money Back Guarantee". In the unlikely event that Baby doesn't like the flavour, or if you are dissatisfied for any reason, just let us know! Just contact our customer service for full details, and you can rest assured that we will give you Full Satisfaction.
Frutteto Italy
We decided to develop a fruit-only product, from both tropical and domestic varieties, not yet on the market. From this idea, "Frutteto" was born, a fruit-only snack, capable of giving the consumer a healthy treat with a never-before-tasted explosion of tropical flavour. It is in the small village of Volongo, in the province of Cremona, nestled in the green Po Valley, that our items are produced, packaged and controlled from A to Z. The factory, which opened in 2019, is 5,000 square meters in size.

Our primary goal is to develop innovative products that never compromise taste. The zero-tolerance policy toward any artificial additives that we apply to all our products has enabled us to bring consumers back to enjoy genuine products that feature the true flavours of nature.

We use our passion for food and our manufacturing expertise to bring food back to its natural form, to make it as simple and tasty as it was in the past. What we want for our consumers is to help create a healthier and more sustainable lifestyle around the world.

Our products have a shelf life of more than 12 months at room temperature, making them very environmentally sensitive as they do not need to be frozen until ready to consume. In addition, our lightweight packaging takes up much less space in transport than glass or other packaging, helping us to reduce CO2 emissions.
Let customers speak for us