Ayples & Banaynay's + Bapple Berry's + Baby King Kong's Pudding (Multi-Pack)
Regular price

Rs. 697.00

Sale price

Rs. 650.00
Real Food -- NOT processed!

Mother Nurture products are GMO Free and do not contain any added preservatives, colours or sugar. You can rest assured that they are as healthy as the foods that you would personally prepare at home for Baby -- but without all the fuss and trouble of doing so!

Easy Meal Planning.

Knowing that many varieties of Mother Nurture are easily available gives you the freedom to plan ahead. You can be sure that Baby will love the delicious flavours - Apple, Mango, Banana and many more. Even while traveling, our products gives you unmatched convenience and freedom, as you know that delicious and nutritious meals for Baby are right there along with you.

100% Money Back Guarantee

We are so confident that your precious darling will love these meals, that we have a "100% Money Back Guarantee". In the unlikely event that Baby doesn't like the flavour, or if you are dissatisfied for any reason, just let us know! Just contact our customer service for full details, and you can rest assured that we will give you Full Satisfaction.
Ayples & Banaynay's (240g pack): Apple and Bananas, this yummy concoction gives babies the best of both of these healthful fruits. You know what they say about an Apple a Day. This blend of Himachal Apples and bananas,is power packed with vitamins and minerals, is one of the many fuss-free options that your baby will love.

Bapple Berry's (240g pack): Apple and Blueberries, the perfect blend of sweet Himachal Apples and North American Blueberries.This yummy puree will be a great choice for your 6 month old. Its simple and delicious ingredients and smooth texture will make it one of your baby's favourites.
Baby King Kong's Pudding (240g pack): Banana and Basmati rice pudding, the sweetest Banana and best Basmati rice are blended with cardamom and milk to give you the perfectly balanced pudding for your child. Just pure natural goodness for your little one! 
Our products are GMO free and do not contain any added sugar, preservatives, added colours or flavours.
Directions for Use & Storage

Directions for use: Mix well before serving. If your child likes it warm, put the unopened cup in warm water. Always check the temperature before feeding the child.


Storage: Store in a cool, dry place and do not use if the packing is damaged or swollen. Refrigerate after opening and consume within 24 hours.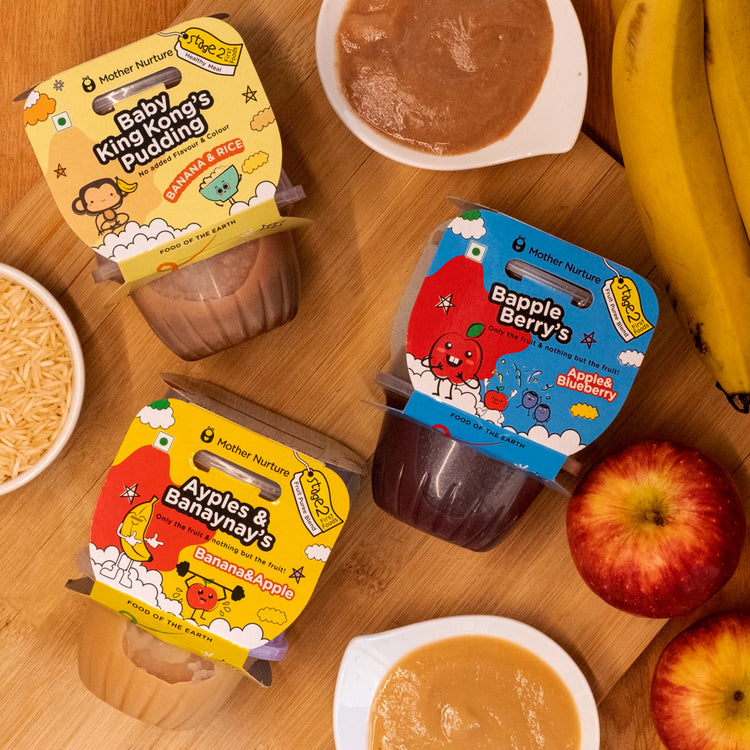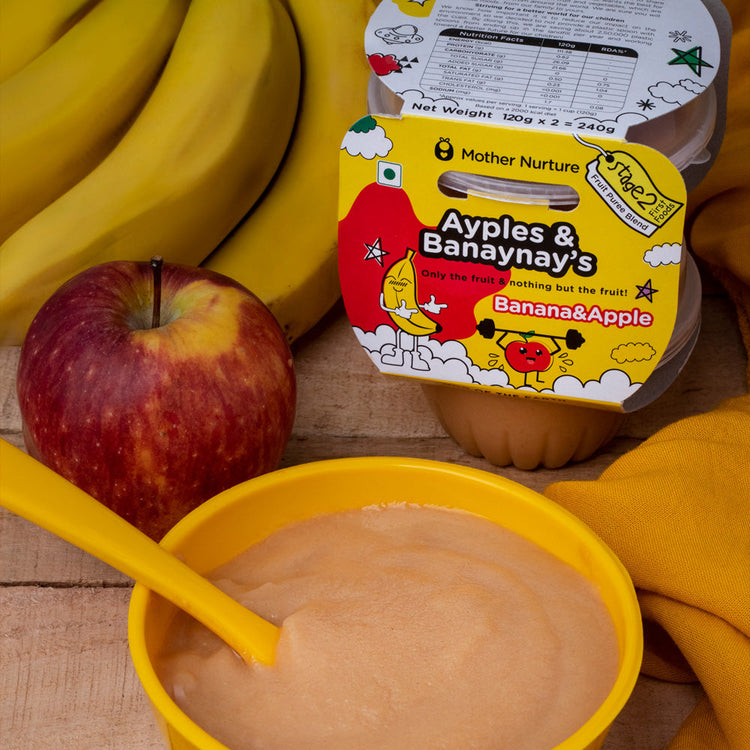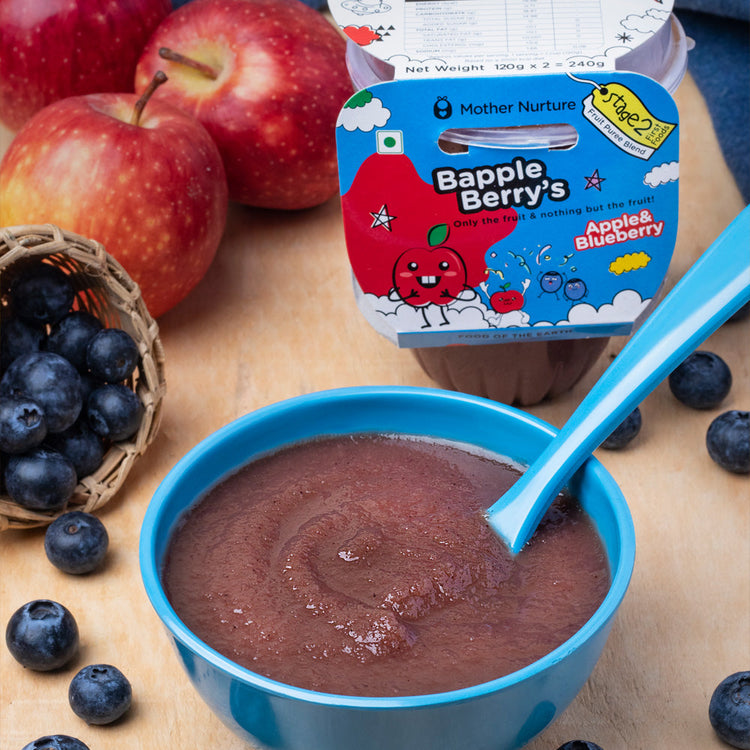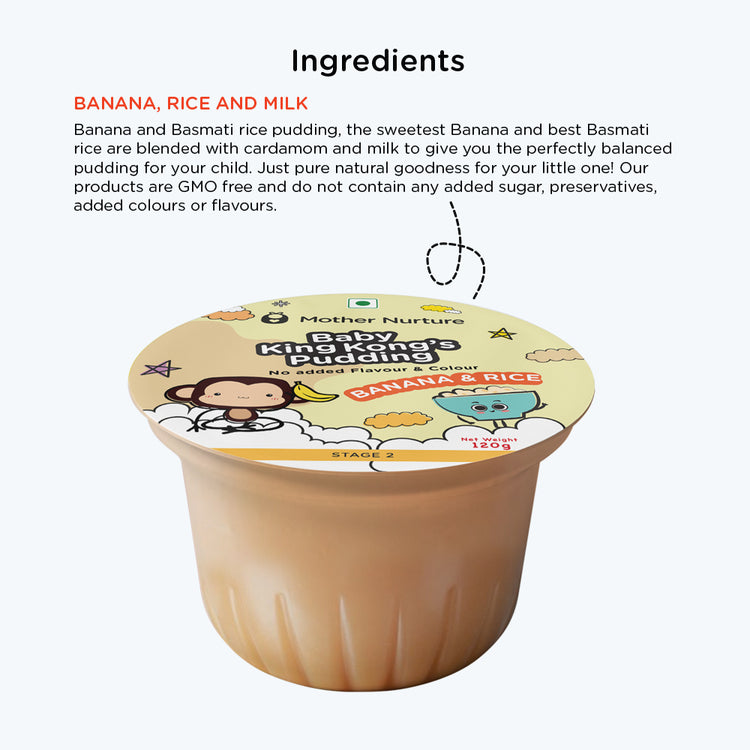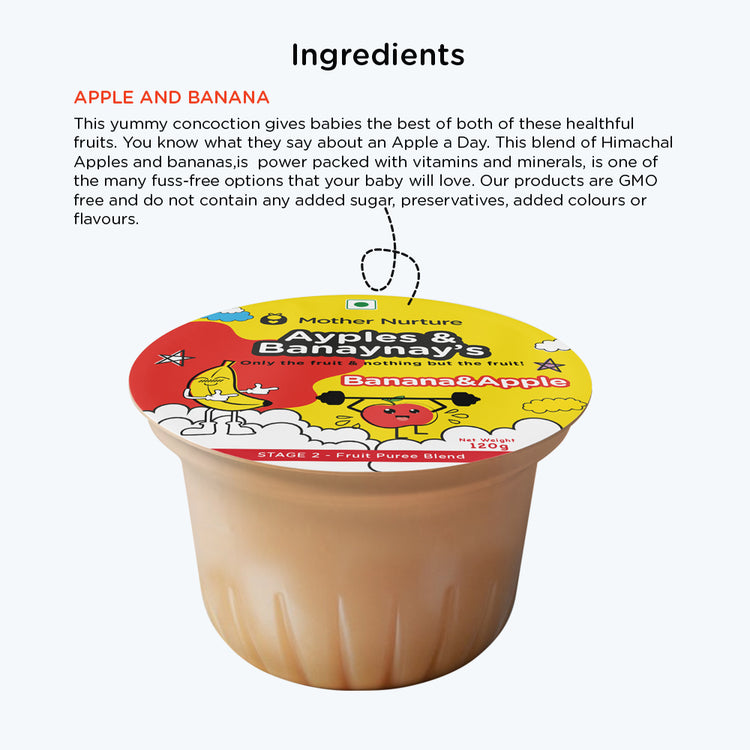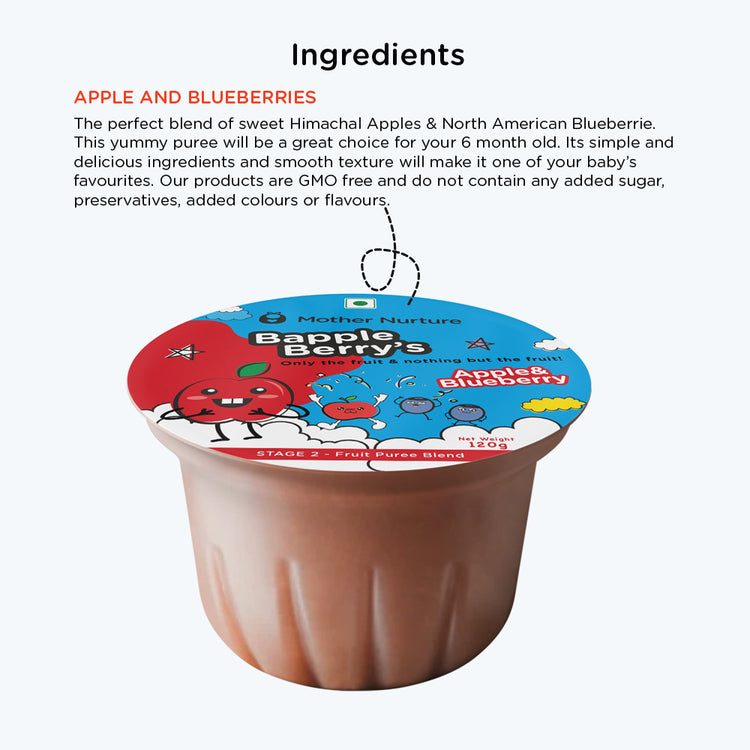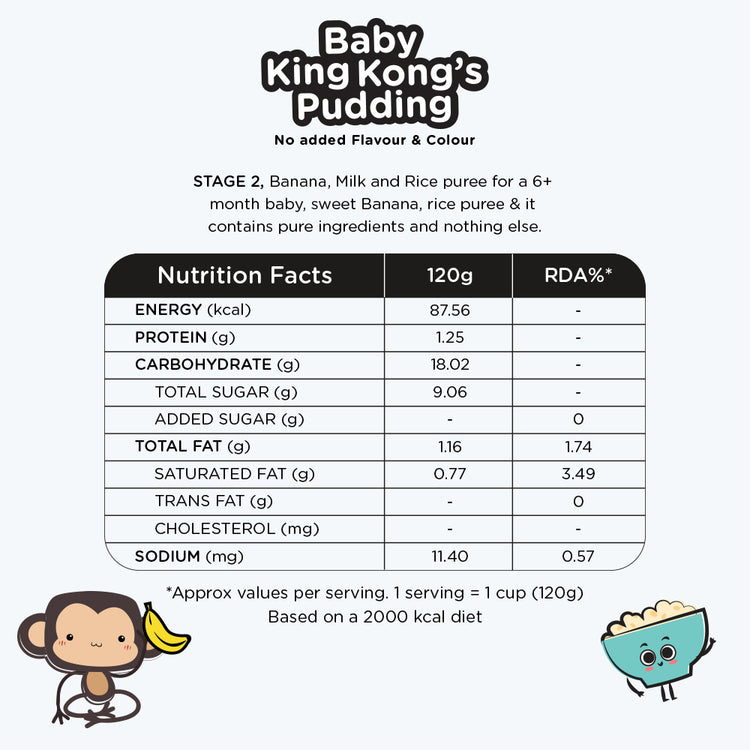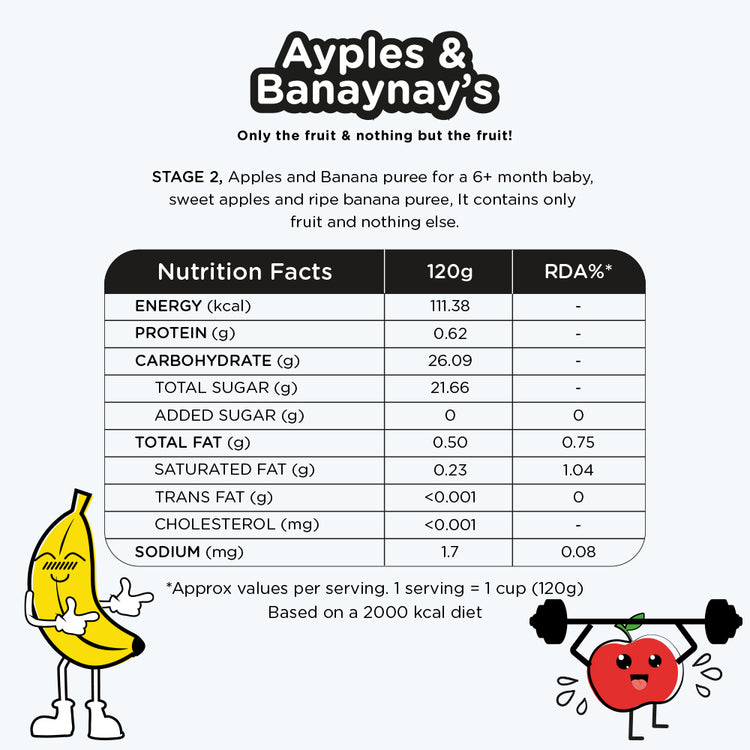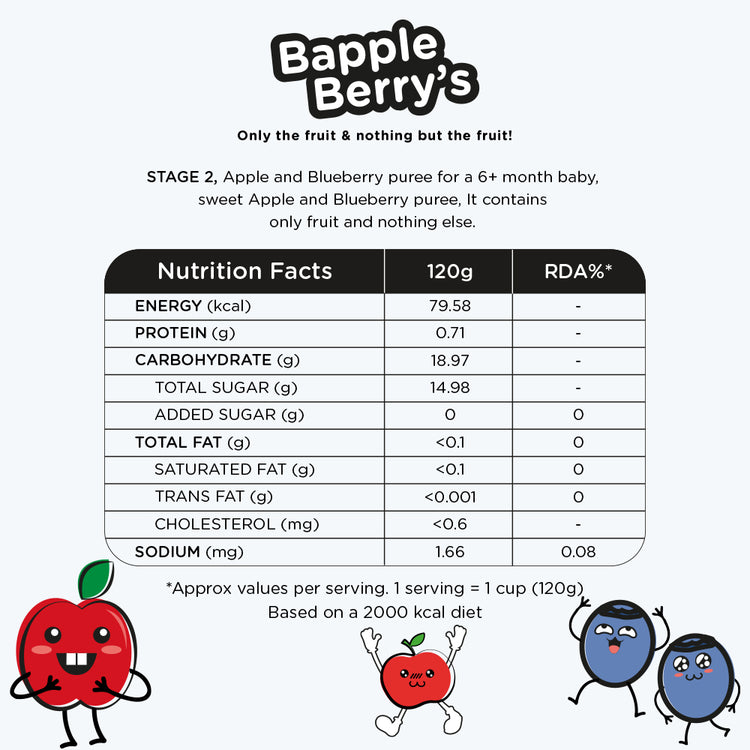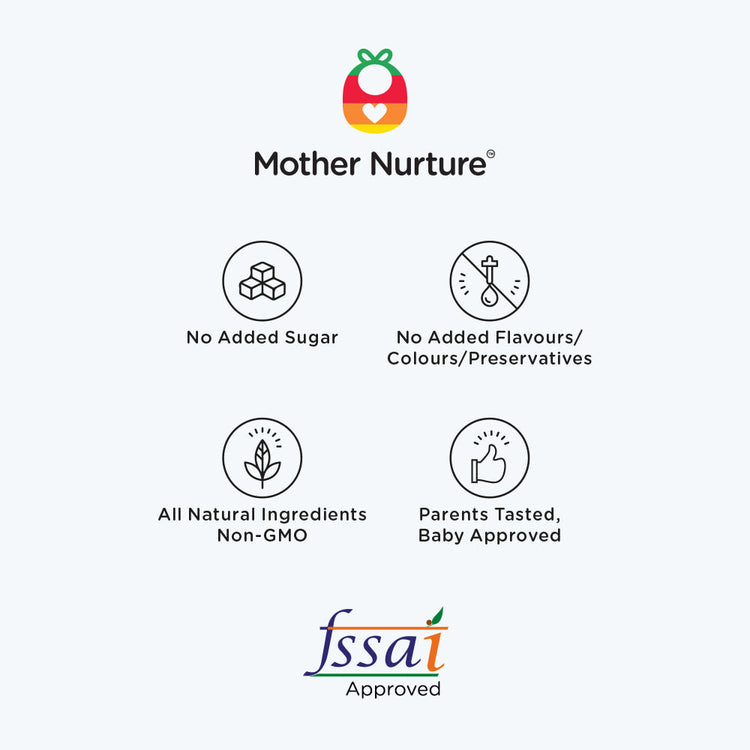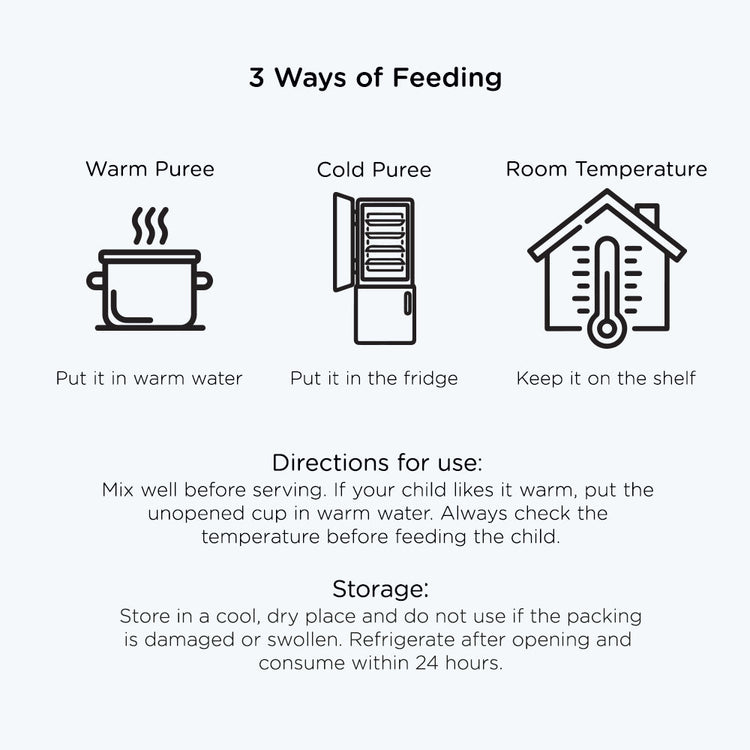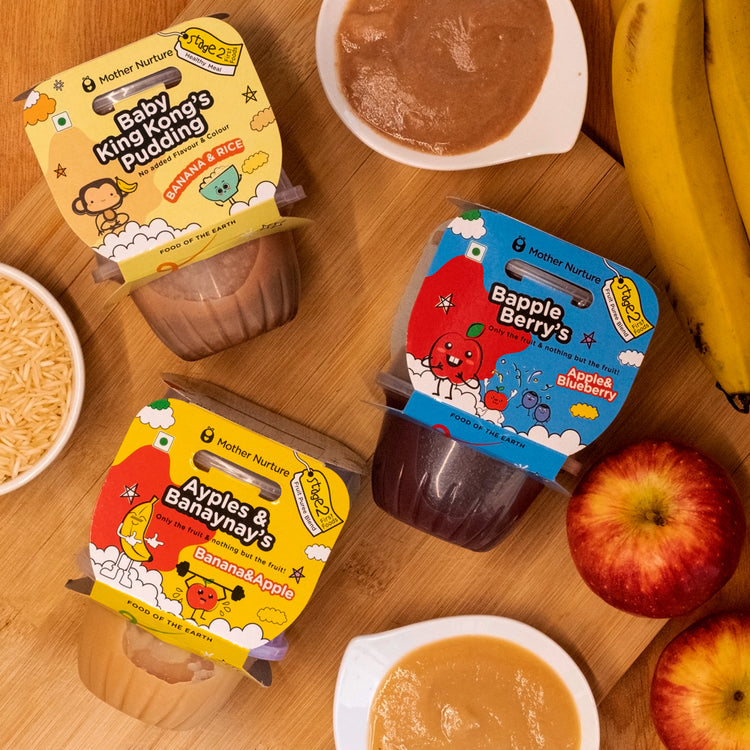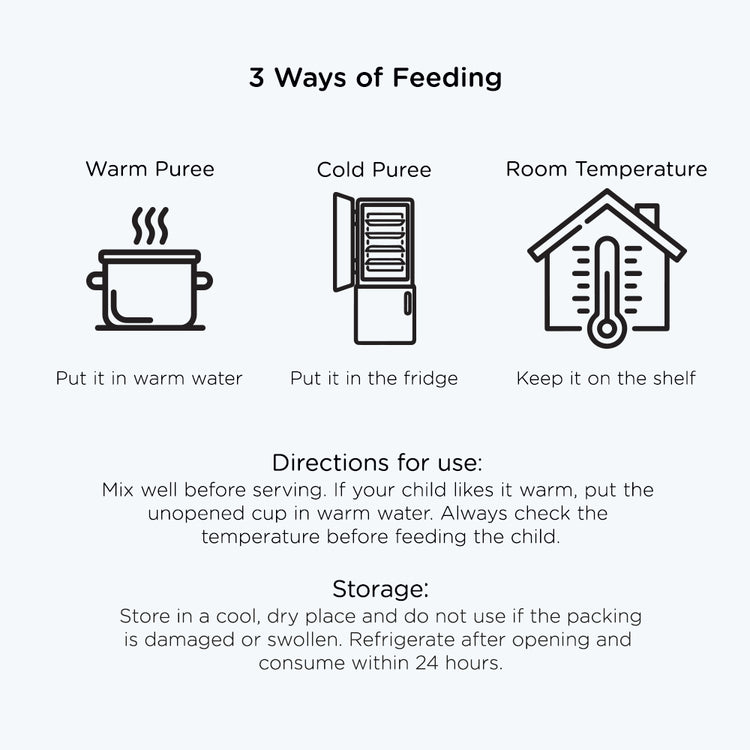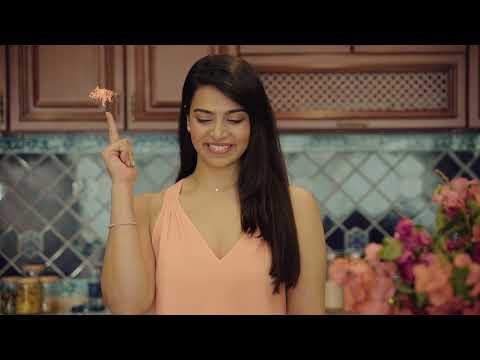 Love the Convenient Packaging
"The packaging is so convenient, especially for on-the-go moments. It makes feeding my baby a breeze."
Best travel friendly food
Trust me, i felt so much at ease knowing there was nutritious food available for baby during the travel hours. Good packaging , no fear of spilling in any way. Easy to carry and sufficient quantity for every meal. Very happy and contented with the product. Will definitely go for it when I set to travel again. Thank you for the quick delivery as per my request.
Delicious and Nutritious
"I'm delighted with the delicious and nutritious options available. It's a win-win for my baby's health and taste buds!"
Perfect for Traveling
"Traveling with my baby is a breeze now. These on-the-go baby food options are a lifesaver!"
Excellent Variety of Textures
"I appreciate the range of textures available. It helps introduce my baby to different food consistencies."
Guarantees
Gluten Free
No Added Flavours / Colours
Cash On Delivery
Available On All Products
30 Day Money Back Guarantee
100% Refund, No Questions Asked!
About this item
Building Healthy Habits

Different choices and flavours of Mother Nurture at different meals will give Baby variety and she will become accustomed to accepting different food. She will grow up to enjoy different flavours and textures -- essential for healthy growth.

Contains No Added Sugar, Preservatives & GMO Free

You can be assured that the baby food is as pure and sweet as it would be in nature, as we never add any sugar to any of our recipes. This is how mothers would make food at home for their baby. These baby foods contain No preservatives, and No added colours or flavourings. All our products are manufactured on state-of-the art equipment, which is completely sterile and employs the latest technology, to ensure that the baby food is absolutely pure.
Parent tasted; baby approved! 

As Parents ourselves, we at Mother Nurture  have tested and tasted every one of our products to make sure we offer only the best in taste, texture and quality. We know how your little one can be fussy and can reject new flavours and tastes. The food we give our baby has to be delicious in taste, along with being pure and nutritious. When something tastes so wonderful no baby will refuse it!!
Worth the Price!!

Mother Nurture may cost just that little bit more than some other brands -- but isn't it worth it when you are 100% assured of nutritious, delicious and completely natural food for your precious little one?


Pick up a pack of Mother Nurture TODAY and see for yourself!!
Travel Friendly

Our packs are travel friendly and perfect to provide healthy and nutritious meals for your child, without all the fussy or carrying cooking utensils, just heat and serve.
Let customers speak for us
Before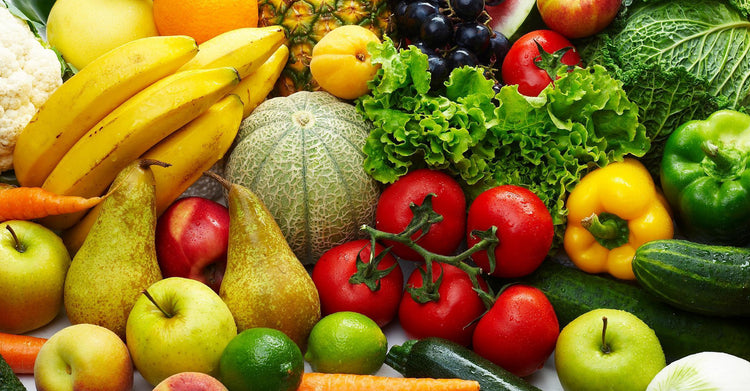 After